The Playlist sample was created as a demo for the
MPlaylist object
, but it can also be used at a TV station in a live production environment. It is a very good way to understand the core advantages of how MPlatform SDK, our
broadcast automation platform
.
Here's a detailed video that shows how to use playlists, sub-playlists, breaks, etc.:
Key features
Advanced playlist management.


Playlist's timeline and multi-layered playlist status controls.

Preview control with deinterlacing.

Advanced break list management.
User guide
The Playlist sample illustrates the use of MControls library to create a playout application.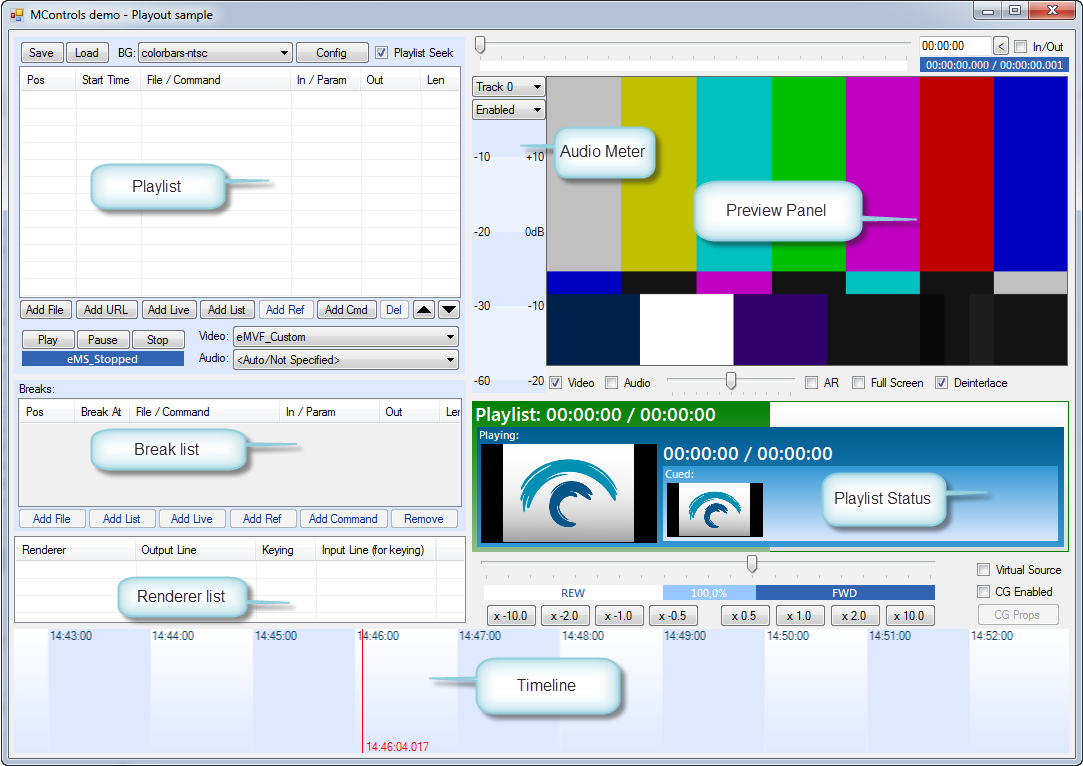 First, let's take a look at the Playlist control:
1. Before you begin your work, we strongly recommend to set output Video and Audio formats (it helps to avoid any potential issues with the Render device and automatically converts any format to the selected output format).

2. In the main section of the Playlist control you can create and configure your playlist:
to add an item to a playlist click Add File, Add URL (for a network stream, youtube, etc.), Add List (to add sublist into the main list) or Add Live (for live source) buttons;
to add an item as a reference of an already existing one you should select the item and click Add Ref button (in other cases this button is disabled). Reference is a "copy" of an existing item. Note, that any changes applied to the "original" item will be automatically transferred to the reference item. 
to remove an item from the playlist select that item and click Del button;
to add a command to your playlist click Add Command button;
3. More precise configuration is available by double clicking on the item in the File/Command column, where you can:
change a name of the item;

set a start time and In/Out points for each item;
initialize a device for Live source option and select properties;

set transitions, etc.
4. To move items in the playlist

use the Up/Down buttons located in the bottom right corner of the Playlist control.
5. To save the playlist click Save button.
6. To load the playlist click Load button.
7. To change playlist's background press BG button and select required item from the list.
8. Check mark Playlist Seek option to seek thru the entire playlist. 

If this option is disabled you will be able to seek thru a current item only. Use a slider above the Preview window.
Break list
control helps you to create and configure your breaks. Breaks enable you to insert different content in the middle of the chosen playlist item, thus you will interrupt or "break" a selected item (e.g. commercials breaks, etc.). As a break you can
Add File
, 
Add List
,
Add Live
,
Add Ref
,
Add Command
or remove an item with
Remove
button. See
Breaks
for additional information.

Renderer list control shows a list of all available devices to output your stream. It allows you to select a required device and set its keying mode.

Now, let's look at the Preview control that allows to view the output stream.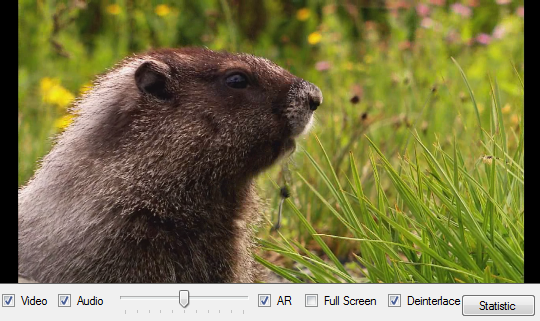 It can be configured as following:
1. To enable or disable Video/Audio preview put a check mark.
2. To control the volume for Audio preview use a slider.
3. To adjust preview while maintaining aspect ratio check mark AR box.
4. Use a Fullscreen option if necessary.
5. To deinterlace your preview check mark

box.  Note, that it only affects the preview while the output is still interlaced. Useful when you need a high quality preview.
Next to the Preview control is the Audio control that allows you to select Tracks for each item, Enable/Disable tracks and adjust individual audio channels.

Under the Preview control you will see a multi-layered Playlist Status control that shows:

green "back layer" is for the point which is currently played in the relation to the entire Playlist;

"middle layer" illustrates at which point is the currently played item in relation to the length of that item;

"front layer" shows the item to be played next;

allows you to play forward or rewind and adjust playback speed with a slider or some presets.

Moving to the Timeline control. It visualizes at which point you are in a playlist.

It has following features: 
playlist items are in blue and breaks are in red;

timeline is set to the real time and continues to move even if playlist is paused.
There are two additional checkboxes in the bottom right corner of the app (right above the Timeline):

The Virtual Source checkbox enables the output of the sample to be available in the system as a DirectShow source filter, which makes it possible to use this stream with third-party applications such as the Flash Media Live Encoder. The name of the source in the list will be "Medialooks MPlaylist Video".
The CG Enabled checkbox turns on the Character Generator, which can be used to add images, text and graphics on top of the video stream. The generator can be configured via the CG Props button.